About HypnoBirthing®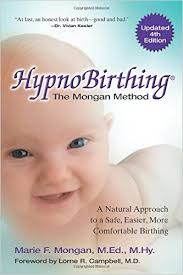 HypnoBirthing® is as much a philosophy of birth as it is a technique for achieving a satisfying, relaxing, and stress-free method of birthing.
This amazing program teaches you, along with your birthing companion, the art and joy of experiencing birth in a more comfortable manner. You will learn how to call upon your body's own natural relaxant and thus lessen, or even eliminate, discomfort and the need for medication. When a woman is properly prepared for childbirth and when mind and body are in harmony, Nature is free to function in the same well-designed manner that it does with all animal mothers in Nature.
You will be fascinated as you view HypnoBirthing® films, showing laboring mothers, awake, alert and in good humor as they experience the kind of gentle birth that you, too, can know when you are free of the fear that causes pain and tension. Through self-hypnosis, special breathing, and visualization, HypnoBirthing® teaches you to release all prior programming about birth, how to trust your body and work with it, as well as how to free yourself of harmful emotions that lead to pain-causing fear and unyielding muscles.
HypnoBirthing® will teach you the art of using your own natural birthing instincts. With HypnoBirthing®, you will not be in a trance or sleep state. You will be aware and fully in control, but profoundly relaxed.
HypnoBirthing® Advantages
• Teaches deep levels of relaxation to eliminate the fear that causes tension and, thus, pain
• Greatly reduces and often eliminates the need for chemical painkillers and drugs
• Shortens the first phase of labor
• Leaves mother alert, fresh, awake and with energy
• Helps keep oxygen supplied to baby during birthing
• Reduces the need for an episiotomy
• Reduces and often eliminates fatigue during labor
• Empowers parent with techniques to achieve a gentle, calm birth for themselves and their baby
• Gives the birthing companion an integral role in the birthing
• Embraces the concept of pre-birth parentingTeaches breathing techniques that allow a woman to gently breathe her baby into the world without the violence of hard, physical pushing
HypnoBirthing® offers you "Class†and so much more…
• Your own copy of the 302-page HypnoBirthing Text, HypnoBirthing– The Mongan Method
• Information-packed sessions, helping you understand the Fear-Tension-Pain Syndrome
• Professionally written scripts for your home practice
• 2 CDs for your relaxation, stress reduction, and bonding (Including the program cornerstone disk, Rainbow Relaxation)
• Handouts for planning your Birth Preferences
• A set of Birth Prompts for your birth Companion
• Demonstration and practice in optimal birth positions
• A Fear Release session eliminating fears and building confidence in your body and nature's way of birthing
• A Guide to healthy pregnancy nutrition
• Several deep relaxation techniques for use during birthing
• Well-paced instruction designed to build your confidence and help you to have a safer, easier, and more comfortable birthing
• Special calm breathing methods for use throughout labor and during birthing
• Private instruction if desired
• Small classes for personal attention
• The advantage and confidence of the Mongan Method reputation for top-quality birthing preparation
---
What You Will Learn in
HypnoBirthing® Classes:
Unit 1 – Building A Positive Expectancy
• Introduction to the remarkable HypnoBirthing® philosophy
• The History of Women and Birthing
• Why and how you can have an easier, more comfortable, and safer birthing
• How Nature perfectly designed women's bodies to birth
• How to assist, rather than resist, your natural birthing instincts
• The vocabulary for calm and gentle birthing.
• Visualizing gentle births by viewing beautiful birthing videos
Unit 2 – Falling in Love with Your Baby/Preparing Mind & Body
• The remarkable mind of your newborn baby—Prenatal bonding techniques
• Rapid and instant self-relaxation techniques and deepening techniques
• Breathing techniques for labor and birthing
• Hypnotic relaxation and visualization
• Selecting the right care provider
• The Birth companion's role in birthing
• Preparing your body for birthing with massage and toning
Unit 3 – Getting Ready to Welcome your Baby
• Preparing Birth Preference Sheets
• Preparing the Body for Birthing
• Light Touch Labor Massage
• Your body working for and with you
• Avoiding artificial induction and achieving a natural start to labor
• Releasing negative emotions, fears and limiting thoughts.
Unit 4 – An Overview of Birthing – A Labor of Love
• Onset of Labor – Thinning and Opening Phase
• Birth explained simply
• Settling in at the hospital or birthing center
• Preparing for home birth – or baby's choice of birth
• As labor moves along – passing time through labor
• Hallmarks of labor
• If labor rests or slows – Companion's prompts and activities
• As labor advances – birthing with your baby
• Protecting the natural birthing experience
• Birth rehearsal imagery
Unit 5 – Birth, Breathing Love, Bringing Life
• Moving into birthing
• Positions for descent and birthing
• Breathing baby down to birth
• Baby moves to the breast
• Family bonding with your baby
What is Hypnosis?
Hypnosis is a naturally induced state of relaxed concentration–a state of mind and body in which we communicate suggestions to our subconscious mind. This part of our mind influences what we think, how we feel, and the choices that we make. It can actually control pain. There is no magic to achieving success with self-hypnosis. Almost anyone who chooses to can reach deep relaxation and redirected focus. When you have your baby with HypnoBirthing, what you will experience is similar to the daydreaming or focusing that occurs when you are engrossed in a book or staring at a fire. You will be conversant and in good spirits–totally relaxed, but fully in control. You will be aware of your body's contractions but will be able to determine the extent to which you feel the surge. You will experience your birthing in an atmosphere of calm and relaxation, without fear and tension that causes pain. Your body's natural anesthesia (endorphins) will replace the stress hormones that create pain. When it's time for your baby to be born, you will be fully awake and involved.